Enrollment Process
Getting Started
Requirements:
Spayed or neutered
At least 7 months old
Current on Rabies, Distemper, K9 Influenza and Bordetella

(Dogs must be vaccinated for Bordetella at least 1 week prior to staying with us if unvaccinated or if vaccine is expired more than 7 days)

Comfortable and non-reactive with other dogs and people.
Pass Temperament Test and complete Complimentary Trial Day
Step 1: Fill out our enrollment form
The enrollment form helps us better get to know your dog 😀
Step 2: Create an account.
Creating an account only takes a few minutes!
By following the steps and successfully creating an account you can then use it to schedule daycare, boarding, request grooming, check future appointments, see past bills, and even pre-buy passes with!
To get started follow the link --> https://secure.petexec.net/newOwner.php?x=DSpC/n6tZjI=
All the spaces with * must be filled out in order to create your account.
Once all the required information is entered click on Create Account
Step 3: Sign contracts
You can read and sign our Care and Services Agreement and Terms and Conditions conveniently on your phone, computer, or tablet.
Just click View/Sign to open the contract.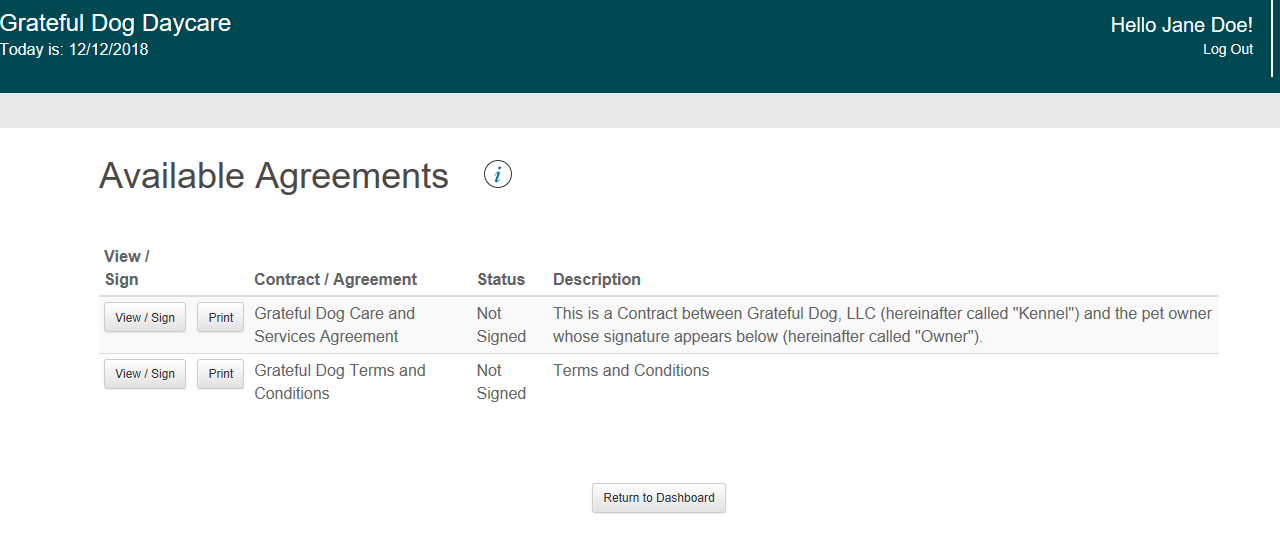 You can either use your username and password to sign the contracts or use a digital signature.
Be sure to click the box to agree to all ELECTRONIC SIGNATURES IN GLOBAL AND NATIONAL COMMERCE ACT terms and conditions.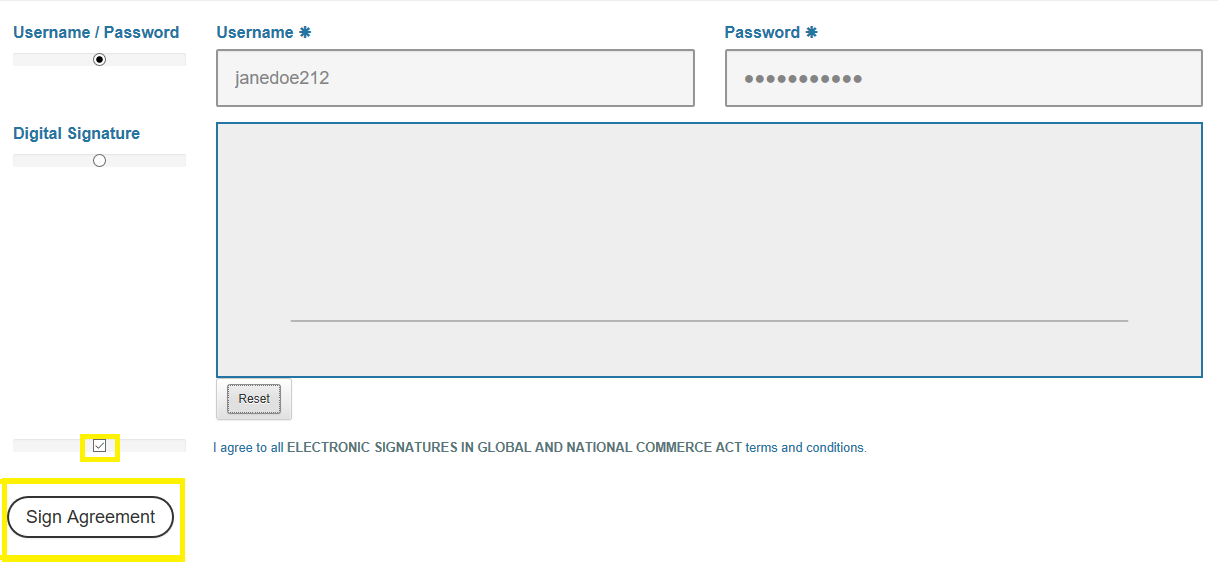 Then click Sign Agreement.
If you are unable to or aren't sure how to sign the contract electronically we would be happy to help guide you through the process! Give us a call at 916-446-2501 😀
Step 4: Add your dog(s)!
Once you've signed the contracts click on Return to Dashboard.
It will bring you to the following page: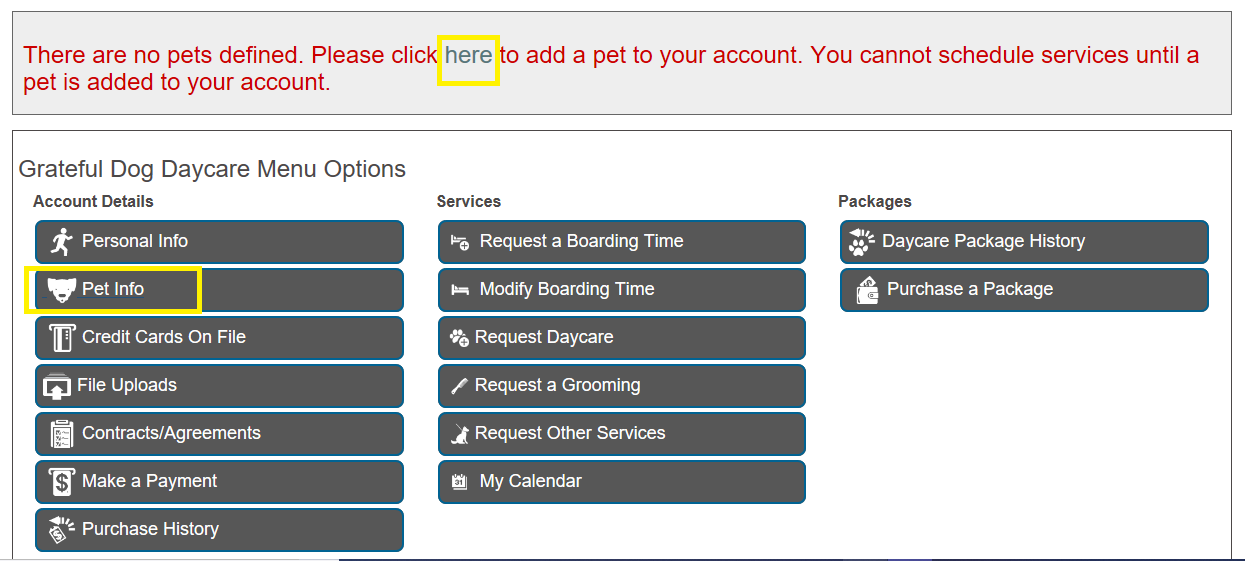 To add your pet you can either click the here or Pet Info
Any spaces with * must be filled out in order to add your pets information to your account.
If you have more than one dog after you click add pet it show you the dog you just completed and give you the option to add pet which will bring you to a new pet form.
Step 5: Schedule a temperament test.
Being a cage free environment we require a successfully passed temperament test before booking any daycare or boarding.
Our temperament test is a 30 minute process where we sit down with your dog and you to talk about their health and experiences with other animals.
After that we do a meet and greet with some of our current daycare or boarding dogs.
We will be watching and discussing the things we are seeing in your dog's interactions.
Once all goes well we will help you schedule your dog's complementary trial day! 😀
We are often fully booked ahead of time and cannot accommodate temperament tests along with trial days, daycare or boarding on the same day. Please plan a few days ahead to assure there is time to book a temperament test and complete a trial day before needing care for your dog.
Step 6 (Optional): Uploaded vaccination records and add a cute pet photo! 😀
On your owner dashboard you can click on File uploads
You then can browse your photos or documents on your phone, computer, and tablet to upload your dog's current vaccination records.
If you don't have them on your phone, computer, or tablet no worries!
You can ask your vet to fax (916.442.8505) or email (Info@gratefuldogdaycare.com) the vaccination record straight to us.
If you want to add a cute photo of your dog go back to your dashboard and click on Pet Info
Then Modify your pet.
From here you can upload a cute photo of your dog by clicking on Modify Picture!
See below for a reference:

Step 7: Complete Temperament Test and Trial Day
All dogs must complete a Temperament Test and then participate in a Trial Day of daycare. This is to ensure all dogs that come to daycare are comfortable and will play nicely with the others. Dogs must pass their trial day before they can come for boarding or regular daycare.
If you are only interested in grooming there is no need to do a temperament test.
If you are only interested in dog walking we do an in home consultation.
Feel free to call us at 916-446-2501 to schedule an appointment or we will give you a call within 24 hours of receiving your enrollment form submission.
(Please note that unless an enrollment form is filled out we will be unable to schedule the evaluation.)
We conveniently do temperament test 7 days a week!
We look forward to meeting you and your dog(s)! 😀