Grooming

All grooming by appointment only.

Grateful Dog offers Sacramento area dog owners the best in dog daycare, cage-free dog boarding, and complete dog grooming services. We go beyond the traditional dog kennel or salon. Our dogs are groomed one at a time to assure their stay is short and sweet as well as reduce the stress of being caged for long periods.

Proof of current rabies vaccine is required for all grooming services.

Grooming Packages

Click Here for Grooming Price Sheet






Full Groom
Double wash with shampoo of your choice
Blow Drying
Brush Out
Nail Trim & Ear Cleaning
Anal Gland Expression *upon request
Full Body Hair Cut of your choice

Clean-Up Groom
Double wash with shampoo of your choice
Blow drying
Brush Out
Nail Trim & Ear Cleaning
Anal Gland Expression *upon request
Clean Up Trim; sanitary, paws, feathers, face.

Bath and Brush
Double wash with shampoo of your choice
Blow drying
Brush Out
Nail Trim & Ear Cleaning
Anal Gland Expression *upon request
No hair trimming is included in this package




Scissor, De-matting, Brush out and/or Special Handling Fees:
An extra fee may apply at a rate of $5.00 per/ 15 minutes for heavily matted dogs, difficult to handle dogs, extra brushing or speciality haircuts.

Boarder Bath

A quick shampoo, rinse and towel dry.

Small/short haired dogs - $20
Larger/long haired dogs - $25
Extra Large dogs- $40

Boarder baths are only available during daycare or boarding stays.

Add on Services
Nails clipped – $10
Nail File – $15
Nail File added to any Grooming Package – $5
Nail Pawlish – $10
Anal glands – $10
Teeth brushing – $10
Sanitary trim – $5+
Face & Feet – $10+
De-Shed Package – $10-$20
Hair Dye – Call for quote
Special Shampoos & Spa Treatments
Add to any grooming package
Flea Shampoo:
A natural, non-toxic shampoo that rescues pups from existing fleas and soothes itchy bites. $6
De-skunk Treatment:
This natural shampoo neutralizes skunk odors. $10
Dead Sea Mineral Bath:
Deep conditioning treatment removes impurities, moisturizes coat and skin, adding a glossy finish to dull fur. $10
Madra Mor Mud Bath:
This Soothing Mud treatment uses mineral rich clay with high concentrations of colloidal oatmeal and nourishing, healing ingredients such as organic aloe vera powder, green-tea, lavender, and witch hazel to calm and sooth dry, itchy skin. Priced by dog size and coat type $10-$30.

Lindsay has been grooming dogs since 2003 and has mentored other groomers to teach the art of grooming. She has experience with all types of breeds, but works regularly with several Yorkies, Shih Tzus and Lhasa Apsos. Lindsay is interested in continuing her education to stay as up to date as possible with various grooming techniques.

Eli recently moved here from Portland Oregon where they groomed for 5 years. They made Sacramento and Grateful dog their new home. They can often be found volunteering with Capital Stage which is a local theater in downtown. Elis favorite pooch to trim up is the Pomeranian and is currently a proud pet parent to a Cattle dog named Atticus and a cat named Augustus. Eli looks forward to meeting and beautifying your pup!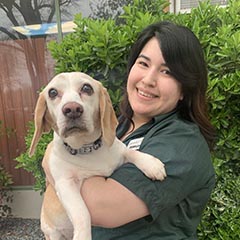 I have always wanted to work with animals and found grooming to be fun and rewarding. I became a certified groomer summer of 2011. I have trained bathers and was the regional grooming lead at my previous job where I would teach grooming academy. I also have an interest in the beauty field. I became a licensed esthetician in 2018. I volunteer every Halloween as a Special FX makeup artist. I hope to further my grooming education and become a certified doggie esthetician.