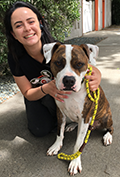 Marissa Daycare Lead
After working over 4 years in the food industry, and 8 months in an office job Marissa decided neither were for her and she much preferred working with animals. It started with dog sitting and daycare on Rover, but after deciding she couldn't properly care for the dogs in her home she searched for a similar job out of the house. Marissa is going back to school to be a Vet Tech, after changing her major 5 times and taking a year off, this is a huge deal for her to so sure of what she want for her future. In her free time she is either at the dog park, hiking with her dogs, educating herself on Breed Specific Legislation/ different breeds, or working her Mary Kay business. In the future Marissa would love to own a ranch with different animals, and also run her own dog rescue.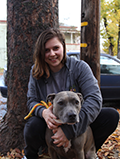 BeckyDaycare Lead
Since I was a child, I knew I wanted to have a career working with animals someday and becoming an employee of Grateful Dog was a great place to start and it has been a fun and wonderful learning experience! I started out as a Caregiver for humans but my true calling is with animals - they are my life and make me happy. On my spare time, you can find me exploring nature, tending to all of my various types of pets or doing some photography. In the future, I hope to have a home with acres of land for various types of animals and I'd love to have my own Doggy daycare and to breed arachnids and reptiles.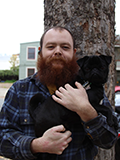 Anthony Daycare Lead
Almost two years as a dishwasher turned line cook, Anthony learned to work hard and apply himself to whatever he was doing. After deciding that the restaurant business wasn't for him, Anthony found a job at Grateful Dog. Anthony now works hard to make sure your dogs are having a fun and wonderful time. He has prior experience as a volunteer at the Front Street Animal Shelter, but Anthony has always loved dogs. Anthony's spare time is spent having fun with his two dogs, practicing his writing, and doing research for his interest in cryptozoology.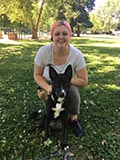 Hannah Daycare Supervisor
Hannah has always had a passion for dogs. She would spend all of her free time pet sitting or walking her friends' dogs. She also loves all other animals and she has her own cats, rats, hamsters, fish, lizards, and birds. She has recently become a new dog parent to Hawk a playful Border collie mix puppy. Now she spends her free time training her dog, playing video games, and writing. She is always eager to come to work and hang out with all the dogs. She especially loves getting to know their individual personalities and their parents. She also loves dying her hair crazy colors!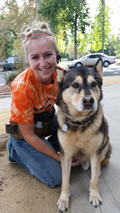 Courtney Assistant Manager
Ever since Courtney was little she knew she wanted to work with animals. She's grown up with dogs, cats, birds, a tarantula, fish, sugar gliders and snakes. She got her first opportunity to work with animals volunteering at the Placer SPCA. Even though she has had a lot of amazing experiences at the SPCA, she has been looking for opportunities with dog daycare, which is what led her to Grateful Dog. Courtney has an AS in Natural Sciences. In her spare time, you can find her hiking, fishing, working out, playing with her pets, or talking. In the future, she hopes to train dogs in her spare time. Courtney believes everyone deserves to have a job that you can't believe you get paid to do!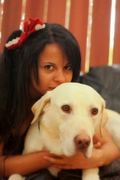 Meli Reception Lead
Meli enjoyed seven years working as an experienced veterinary technician before joining the Grateful Dog Team. She enjoys getting to know her dog friends in a happy and exciting environment for them, rather than the fear and stress she so often encountered as a technician. She hopes to continue learning from dogs and their company as well as their interaction in the Grateful Dog pack. On off days, Meli can be found taking photographs of small things, reading comics in Japanese or watching films with her sophisticated Beagle-mix, Daisy.