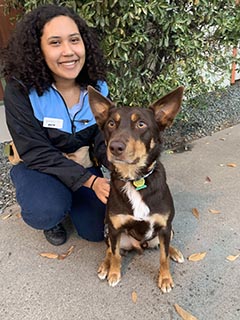 MayaDaycare Lead
Maya was born in Houston, Texas but moved to Sacramento when she was three. She is a student at Sacramento City College and hopes to transfer to a four year university next fall. Mayas goal is to eventually be on track to go to law school. However, after working here she can't imagine having any other job! Maya is so grateful (ha) to come to work every day knowing that she gets to see some of the best pups in the world. She also has two dogs of her own, Tuna and Lilo. They are the sweetest, cutest pups! When Maya is not at work she loves going to concerts, biking and hanging out with friends.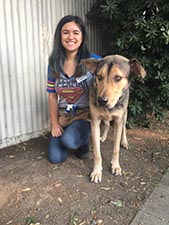 KindraDaycare Lead
I began working with dogs because I have always had an animal in my house and always wanted more. I used to volunteer at Front Street Animal Shelter. I am currently going to American River College to begin my education though I am not quite sure what my end goal is right now, I am torn between two very different things. During my free time I like to draw, read, write and hang out with friends. I currently have 2 dogs and 2 cats, though they don't get along very well.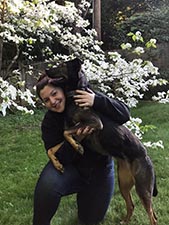 TaylerDog Walker/Taxi Driver
For as long as Tayler can remember, she has always loved being around animals. When she began working with dogs professionally, she knew it was where she wanted to be! Although she loves all dog breeds, Tayler has always had a soft-spot for mutts. In 2017, she adopted a Belgian Malinois mix from Front Street Animal Shelter. Since then, her pup has become her entire world; Tayler hopes to continue expanding her rescue family!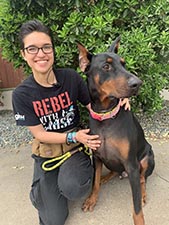 LynnDog walker/Taxi Driver
I have always loved living with animals, and that motivated me to try and work with them. Now that I do, it allows me to enjoy every day I work. While I am also an Army Reservist, I use my spare time to go to school and learn American Sign Language, so that I can become an interpreter. When I am not working, or going to school. I enjoy spending time on my motorcycle or in my room as I write about fantastical worlds and creature, and create stories that hopefully one day, others can enjoy as well.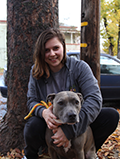 BeckyDaycare Lead
Since I was a child, I knew I wanted to have a career working with animals someday and becoming an employee of Grateful Dog was a great place to start and it has been a fun and wonderful learning experience! I started out as a Caregiver for humans but my true calling is with animals - they are my life and make me happy. On my spare time, you can find me exploring nature, tending to all of my various types of pets or doing some photography. In the future, I hope to have a home with acres of land for various types of animals and I'd love to have my own Doggy daycare and to breed arachnids and reptiles.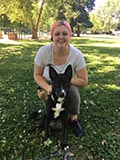 Hannah Daycare Supervisor
Hannah has always had a passion for dogs. She would spend all of her free time pet sitting or walking her friends' dogs. She also loves all other animals and she has her own cats, rats, hamsters, fish, lizards, and birds. She has recently become a new dog parent to Hawk a playful Border collie mix puppy. Now she spends her free time training her dog, playing video games, and writing. She is always eager to come to work and hang out with all the dogs. She especially loves getting to know their individual personalities and their parents. She also loves dying her hair crazy colors!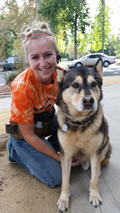 Courtney Assistant Manager
Ever since Courtney was little she knew she wanted to work with animals. She's grown up with dogs, cats, birds, a tarantula, fish, sugar gliders and snakes. She got her first opportunity to work with animals volunteering at the Placer SPCA. Even though she has had a lot of amazing experiences at the SPCA, she has been looking for opportunities with dog daycare, which is what led her to Grateful Dog. Courtney has an AS in Natural Sciences. In her spare time, you can find her hiking, fishing, working out, playing with her pets, or talking. In the future, she hopes to train dogs in her spare time. Courtney believes everyone deserves to have a job that you can't believe you get paid to do!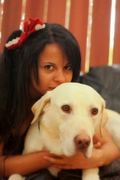 Meli Reception Lead
Meli enjoyed seven years working as an experienced veterinary technician before joining the Grateful Dog Team. She enjoys getting to know her dog friends in a happy and exciting environment for them, rather than the fear and stress she so often encountered as a technician. She hopes to continue learning from dogs and their company as well as their interaction in the Grateful Dog pack. On off days, Meli can be found taking photographs of small things, reading comics in Japanese or watching films with her sophisticated Beagle-mix, Daisy.